Established over 20 years our background in timber technology, fine furniture & polishing ensures you get the very best advice. Where we recommend a product for you to use, you can rest assured that it is the very best of its type. Our reputation depends on it. Contact us for friendly, free advice on any aspect of wood staining, polishing and finishing.
Thank you so much for such an excellent service. I phoned the shop yesterday and spoke to Mr Finney who offered great advice and processed my order to the Highlands. My parcel arrived today! Many thanks for getting my order to me so quickly. I am looking forward to using the products and I am sure I will be using your wonderful business again.
Kind regards
Laura Scott
Just wanted to say thank you for your assistance and product lines. We have just applied 3 coats of Finney trade Acrylic (Matt) Varnish to our oak floor with a 1% white colour mix and the floor looks amazing! Better than new.
Chris S
Hi Mark, Just a quick thank you for the advice on using your white stain and acrylic varnish to prevent stripped pine floorboards from going orange. Have done two bedrooms and both look great. Very pleased with the result. Here's the before and after photos...
Kind regards, Lee & Lisa
I purchased some Sikkens HLS Plus from you to use on my cedar wood greenhouse. I spoke to one of your staff and received the most excellent advice on what to do and which product would suit me best. I have done as advised and applied 3 coats after careful sanding. I am absolutely delighted with the finished result. I certainly know where to come for wood finishes in the future.
Best wishes, Chris
Speedy delivery, professionally packed, all items intact, superb service, as always a pleasure. Please also add - Professional advice freely given, quality of products knock all else into a cocked hat. Fantastic experience, as always. Not that I would expect anything else ! Thank You both.
Barrie Wheatcroft, Sheffield.
It is a great pleasure to speak and deal with people, such as yourself, who are enthusiastic and passionate about what they do; and willing to pass on your knowledge and expertise to others. All very much appreciated.
Nigel
I just wanted to say thank you for your advice and products. I managed to sand down a heavily varnished pine table top and used Stripped Old Pine water stain and Fiddes Stripped Pine Supreme Wax to create a rustic, reclaimed pine look. It looks fantastic!
Yvonne
I have just treated a bare wood cottage door I made earlier this year using Stripped Old Pine stain and Stripped Pine wax. The result is astounding. Just the colour and finish I wanted. I followed your video on YouTube. I will be ordering more materials in the future. Many thanks. David Jackson
Hi Mark, I have finished the Scaffold Boards as you suggested and am absolutely delighted with the result, it is exactly what I was looking for. Thank you for your expert advice, superb products and great service.
Curt Iceton
Over the years I have always bought from (and recommended) you as I trust you and you know your products. From restoring a 17th century timber frame cottage to renovating and rebuilding a Victorian house you have really helped us with your advice. Thanks.
Sarah Dawnay
Hi Mark, Thought I'd send you these photos. Same sample with the top one finished in your Trade Acrylic and showing very little darkening and the bottom one showing the finish in Liberon Finishing Oil. I think the Acrylic is a great finish - thanks.
Kind regards, Jonny
[Customer wanted to keep the Zebrano as light as possible which is why he used the Trade Acrylic varnish]
I just wanted to say a big thank you for your help and guidance for this project. The quality of the products you supplied and speed of delivery was excellent and watching the tutorial video proved very helpful indeed. I am absolutely delighted with the results and would not hesitate in recommending you and your products to others who are considering undertaking a similar refurbishment.
Many thanks and best regards, Alan Harrison
Hi Mark, We treated our coffee tables this weekend and are super happy with the result! Thank you so much again for your expert help and advice. We very much appreciate it. Best wishes, Oliver
(Before contacting us, this customer had done some research online and had then bought a product which didn't perform as expected).
Me and my girlfriend spent over a month researching products to give the perfect finish on our 100 year old newly sanded floorboards... enter Finney's! We decided to use the Trade Acrylic Varnish (Matt) to keep the colour as natural as possible. The product was very easy to apply, and it was also so reassuring that we could contact the shop if we had any enquiries during this process. The finish is exactly how we wanted it to be, our floorboards look immaculate, and the varnish gives it a professional finish without the orange and glossy look which we are over the moon with. We will be definitely recommending the product, and the company, to everyone!
Dan and Siobhan
I just wanted to let you know how pleased I am with the No Visible Floor Oil I bought from you recently. My sanded floorboards came up a pale colour which I wanted to try and keep. After consulting with yourselves I decided on the No Visible Oil for the most natural effect and also added a little White Wood Dye to help prevent the wood darkening. I found the oil easy to apply and quick drying and am very happy with the finished result. Thank you for the help and advice you gave and for explaining the options so clearly, which helped me to make this choice.
Dilys
Hello Mark,

I recently used your products to re-furbish an old pine table and the result was exactly what I'd hoped for. Photo attached.

Many thanks, Tony
Dear Finney's, Just a brief note to thank you for your technical support and products in helping us find the right solution and treatment for our Pine cabinet to avoid an orange effect. We are really pleased with the results (Photo of finished cabinet attached) We will definitely use you again.
Best Regards, David and Teresa Bridges
Just to say many thanks for a next day delivery of items ordered and also big thanks for your Youtube video demonstrating how to prevent orange effect on pine wood. I ordered all stuff required to treat wood panels on parts of kitchen walls from yourselves and followed your advice throughout my project. I am no DIY enthusiast but final result was fantastic, again many thanks for everything.
John Mather
Hi Mark, A great result on both floors and really pleased with how they look. Thanks for all your help along the way and also the tremendous products you sell. Could not have done this without your support. All the best, Julian
Hi Mark just wanted to let you know that I've managed to do the island worktop so far and what a difference!!! Your products are amazing, it was a lot of hard work to get rid of the danish oil residue but so worth it for the end result. Just need to crack on with the main tops now so thank you for all your help and advice.
Kind regards, Paula (by email)
A big thank you for your advice and products. I watched your YouTube video of how to lighten a pine floor to stop it going orange - bought the products and we are more than impressed with the results! Many thanks.
Louise Knapton Carter, Grantham
Hi Mark, I wanted to let you know how delighted we are with the extra tough water based varnish. We sanded 15 year old beech engineered flooring in 3 large rooms and with 3 coats of your varnish they look fantastic. We needed to remove an inferior varnish that was applied a few years so we can really see the difference in quality and appearance and feel sure that it will continue to look great for many years to come. I especially wanted to thank you for the expert advice and support you provided throughout the process to help a couple of complete novices weigh up the different options available and get an amazing result.
Mark & Loraine. Buckden, Cambs.
I'd like to thank you for taking the time to help out an old novice DIY woodworker. Many thanks Mike
Michael Jepson
Just wanted to say thank you so much for your time and advice last week regarding varnish for my new pine veneer doors.The 5% whitener method worked a treat and the four completed doors look exactly how I wanted them. Great products and all delivered the next day. I have already started the recommendations to my friends.
Gill Hutchinson
Just received a parcel of varnish, cloths etc. I was really surprised it has arrived today as it is less than 24 hours since I ordered it so am writing to thank you and congratulate you on your speedy customer care. Also I ordered these goods in response to a Finney's youtube video - this was most helpful and informative. Well done and thank you again
Mrs N Winward
The white dye and acrylic is proving to be a great success.My whole house has orange pine skirting boards,windows,doors and some floors , the banisters etc.I wish to thank you for posting your video's on You Tube along with your great products. I will be ordering some more in the future.I was spending hours sanding the orange pine , using expensive top of the range sanders. Now I have your white dye and acrylic mix I can save time on sanding and the final result is 100% better.My best wishes, Toby Tooke
Just completed polishing my first radio cabinet. The results were not good - they were brilliant. For your info' I stopped at 4 coats before applying the Finishing Wax. Also the second coat ran slightly because I failed to follow your application instructions regarding draining the polish from the mop before applying. Situation was retreived after sanding out the slight rigdes and re-applying a thin coat.
This product ( Finpol Special Polish ) was clearly developed for amatuer polishers , such as myself, who for years have unsuccessfully struggled for many hours using conventional french polish and application techniques. I would like to add that my success was not only possible from your formulae, but also from the excellent on-line video providing clear and concise application procedures.
Best regards, Ed Hotham
We were exasperated trying to do a pine floor without orange tone and had to completely remove a Ronseal " clear " because it brought out orange which could not be seen on the sanded floor. We also wanted a low sheen waxed look. Mr Finney talked through with us the look we wanted and advised Finney's "stripped pine " water based stain, which actually has grey tones, surprisingly , followed by 2 coats of Finney's Matt Acrylic varnish , and a top coat of Finney's Extra Tough "waxed finish " ( all water based ). We are thrilled with the results and 18 months later the floor is wearing extremely well,in a busy room. Thank you. Annette Reynolds
I cannot begin to tell you how happy I am with the finish I got on my pine dining table. It had gone an orangey colour and was not the prettiest thing. I had looked at Mark's video and thought I'd like to try those products. I also spoke to Mark and was then keen to go ahead. I followed the advice sanding down the table, applying the white wood dye and then finishing off with two coats of matt varnish also supplied by Finney's. The result was unbelievable and many are coming to admire it. Watch out Mark! I might steal your job. Mrs Molloy
"I'm an amateur carpenter, there are the first tables I've ever made, I have no training and have learned all I have from bodges, mistakes, youtube and do-it-yourself books. The workshop is not mine, I rent a space in it and have no idea how to use half the machines. The long table with the horse hooves is 10 x 3 foot, the two coffee tables are 4 x 3 land the little table 4 x 2 foot. Three tables are you will see are natural edge which my client asked for as well as having a horse motif. I have enjoyed it and would urge anyone to give it a go, even if, like me, they have no previous experience. Your products made all the difference because the people who these tables are for wanted the elm - which they supplied, all from a single tree - to remain as close as possible to its natural colour, which it has. I love the low sheen of your invisible oil and mcro-crystalline wax, which also has a wonderful scent. Thank you very much and I shall know where to come for top quality finishing projects for the future." With Kind Regards, Jeremy
"Your product is brilliant, I just need to make sure I get the proper carbide paper next time. So many thanks for all your help. This is the first time I've ever used varnish or varnish acrylic, I normally use stains and oils to finish, so this was a first for me.To say that I was on edge about it was an understatement. I found that having a craftsman that I could just phone up for advice and guidance (especially when the job wasn't going to plan) was absolutely lifesaving. I don't know of another business that offers this type of support, it really is unique. I can't speak highly enough of Mark and his business. Can't thank you enough, many thanks!"
Chris Stevens, Lancashire
This oak table was made by New Forest Oak Buildings, from all recycled old marina pontoons & walkways. Finished in invisible oil from Finneys Wood Finishes.
Just finished doing the new finish and it's great - such good service and great products (and don't get me started on the amazing sandpaper, to think of the years I've wasted with that yellow rubbish). So, a very happy customer and one who will be very happy to order more.
Ian Eccles-Smith. London
Your "How to" Guides and advice put me on the right track when we decided to take on the minefield of a job stripping and staining the original pine in the house! It's been a steep learning curve and I totally underestimated the size of the job- read loads of online posts etc and got overloaded with conflicting info. But when i came across your guides and and then your site it really helped me bite the bullet and decide on the water based stain and wax approach- and it's coming along nicely! Got loads more to do but the wife and me are really happy with the results- so thanks again, I genuinly think your service and the way you've gone about it excellent- it's certainly helped my confidence and enjoyment of working on DIY projects- especially working with wood.
All the best and I will no doubt be putting in another order when I need more stain/wax.
Cheers. Jamie & Mel Slater ( address supplied )
Hello Mark
Thank you for taking time to reply. I have used your products on two projects now and I love the finish it gives. I look forward to trying this on my dining table that belonged to my Grandmother.
Kind regards.
Customer wished to remain anonymous- name and address supplied
I purchased your Finpol Special Polish last week and wanted to pass on my thanks for such excellent service and a fantastic product. I only wish you made a product as easy to apply and looks as good as this that I could use on my 31ft wooden boat!
Best regards, Tim Johnson
I've just spent the best part of a week of evenings rubbing and sanding a very neglected and lack lustre pine stairwell. Wanting to retain the lovely light shade of the wood and avoid the pine turning orange/yellowing, I thankfully found Finney's website. After watching Mark's You Tube video (repeatedly), I decided to ring, and the mine of useful information and free advice I got has helped me completely restore the stairs, I am thrilled.
Having spent the time sanding the stairs it was extremely scary applying the white stain recommended but so worth while.....my attitude in the end was just do it. We are now working our way through the various wood finishes in my boyfriends showroom and envisage poor Mark will be getting a few more phone calls, and we will be buying our varied wood finish needs from nowhere else from now on... thanks Mark, very much appreciate it.
Helen Thorn, Cambridge.
Just wanted to say thanks ever so much for the course, it was really fantastic; exactly what I needed. I will be in touch shortly to arrange getting the stains and oil for the flooring. It is difficult to find someone who is a genuinely authentic craftsman in this age of style over substance; I'm happy to say Mark is the real thing.
Alex Hyde, London
"Thanks Mark Finney for your advice for restoring this table!" (comment from a Facebook post). The customer used Finpol Special Polish and followed the technique in our Polishing Wood video.
Thanks Mark - great stuff. It's great to be able to ask advice about this kind of stuff as there's so much conflicting advice online and variables inherent in the whole finishing process that it can be confusing to a novice like myself. Your help is greatly appreciated. Thanks again.
Sion
Absolutely outstanding customer service and products. Mark was friendly and extremely helpful and knowledgeable. I had tried several well known brands of stain and they were all awful. After a few emails and phone calls Mark managed to match the colour I was looking for with a mix of 2 stains and the product arrived next day well packed. It went on beautifully and after a coat of Osmo, the brand new white woodwork now looks like it has been there as long as the house some 200 years or so. Thankyou!!!
Anna
I just wanted to let you know I've nearly finished both tables. Following your advice and with a lot of hard graft they look great!! I managed to get all the original wax removed.
Rob
Having tried other options I now rely on Mark Finney's advice and products for all my wood finishing. I know he can supply a quality product for every job, and following his advice in each circumstance enables me to achieve excellent results without having to become a genuine expert myself!
QDS Carpentry
It's a while since I collected the products from you, but have now finally completed the project. Thank you for your advice, it all went well. The new white pine floor is Finneys woodstain mix of antique and stripped pine, with 3 coats of Saicos hardwax oil, matt-satin. The re-used slate hearth is Luberon stone sealer. Oak worktop danish oil. Thank you again, very pleased with results.
Matthew, Stranraer
Thank you for your advice for treating a new ash floor. I was concerned that an oil or varnish treatment would darken the wood too much, but your matt trade acrylic has enhanced the appearance and hardly changed the colour. It was easy to apply with a synthetic applicator - I applied three coats as you suggested. I could not be more pleased with the result. Your experience and advice in recommending the right treatment have been invaluable - I wish the flooring manufacturer had been as professional! Thank you!
John Colquitt, Scottish Borders
Very bright and perhaps not for the purists, but I love it. Thanks for your excellent and speedy service. Regards, Howard.
"I would like to thank you for your help and advice you gave to me regarding finishing my new doors. I had been trawling the internet for hours when I came across your site. All the advice out there is very confusing and you were very helpful with what products I needed and your written step by step instructions. I would not hesitate in recommending you to other novices in staining etc. Also thank you for the prompt delivery and well packaged goods delivered this morning, I will let you know what the finished results are like. I now have every confidence in the preparation and finish of the doors."
Susan, Cumbria
"I spoke to Mark Finney today and I can't tell you how helpful he was, it's amazing to have someone so knowledgeable at the end of the line! - Thanks Mark!!! I am sure we will all benefit from your help in the future."
Tristan Titeux (in a comment in Custom Carpentry Affiliates).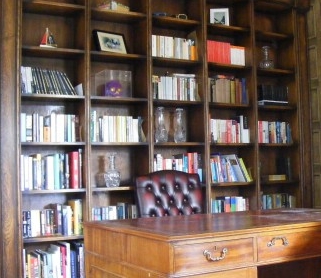 "We are creating a "gentleman's club" feel in our home office. We designed and built this bookcase using solid oak for all the facing parts and oak faced MDF for the panels. The aged antique look was achieved by building layers of stains and glaze from Finney's - Mark Finney's advice and support was invaluable. All layers of finish we applied by hand."
Kris & Sarah, exploitspace.
"Many thanks for your advice over the 'phone the other day. I was using your white water based stain and acrylic varnish on a pine table top and was faced with a small patch which simply wasn't taking the stain. I followed your advice (sand the patch a tad more and apply a stronger strength mix) and it worked a treat. My wife and I were so pleased with the outcome that I've used the stain on a number of other pieces of pine furniture with the same excellent result !!"
J Brockbank
"I purchased white wood stain and trade acrylic varnish for my narrowboat project and thought you would like to see the results which I think are tremendous. "
David Cregan
"I would like to thank you for your help and advice you gave to me regarding finishing my new doors. I had been trawling the internet for hours when I came across your site. All the advice out there is very confusing and you were very helpful with what products I needed and your written step by step instructions. I would not hesitate in recommending you to other novices in staining etc. Also thank you for the prompt delivery and well packaged goods delivered this morning, I will let you know what the finished results are like. I now have every confidence in the preparation and finish of the doors."
Susan, Cumbria
"Thank you for the tips and advice. The Oak table Acrylic Matt finish we bought is perfect, been on a few weeks now and brilliant. I've already been showing visitors the finish and telling them where I found out my new skills. Many thanks indeed."
Ian Clark
"Just to let you know that our delivery happened today –, everything was delivered in good order with no damage. Thank you very much for the promptness of your service and also for the advice and help you gave over the phone."
M Pollard
"We had some dry days last week, so I did one set of doors. I'm quite pleased. I did two walnut, followed by two mahogany. I do need to do two lots of stripping though and better work at that stage. Still, for my first effort I'm pleased and you were spot on with your advice. Onward and thanks."
Jane
"I came in on Saturday, I had varnished my new banisters and they had turned a horrible dark color. You provided us with remover, varnish, sandpaper, wire wool and a brush. I just wanted to say thank you, we manged to make them look like oak again! Many thanks."
Miss R Paul
"Just to say the package of wire wool and wax remover and reviver arrived and the Old Charm table has come up like new - absolutely stunning the finish - my wife was totally amazed and very pleased. If I need any more restoration materials I shall certainly be a future customer. Once again many thanks."
Ronnie Ince
"I have spent a lot of time and money attempting to find a suitable product to use on the reclaimed wooden floors throughout our farm house. I have taken advice from suppliers in our area (Bristol) and stockists found on the internet, but not received such professional advice as you have given me this morning - thank you!"
Joanne Perrett
"I started on 3 persimmon clubheads last night and applied 4 coats. This morning the sheen was so brilliant I had to rush for my sunglasses. Don't worry I'm not suing for eye damage. What an amazing difference. Your brief tutorial and other advice combined with your products have produced those results - and I've only just started French Polishing. It can only get better."
W Brooks, Scotland
"Finney's high quality products backed up with friendly expert advice enable us at Chatsworth House in Derbyshire to maintain our antique furniture and on new woodwork, create colours and finishes that blend in with the traditional surroundings."
Mr John Thompson, French Polisher, Chatsworth House, Derbyshire
"Following your recommendations, I write to say how pleased I was with your products. I was restoring an antique oak recliner chair... The chair was polished using Finpol with six coats and finally waxed. The result is fantastic and once it is upholstered, it will grace the study rather than languishing unused in the garage."
Mr Welchman, Warwickshire
"I have been making things for most of my life and it is only since receiving advice from Finney's that I have achieved a truly magnificent finish. I would recommend them to anyone."
Brian Wildsmith, hobbyist for 20 years
"I took a piece of spare wood along to Finney's and they showed me how to make a new pine staircase match my beautiful old pine doors - Brilliant!"
Mrs B Smith, Sheffield
From a 'Letter to the Editor' in March 2005 issue of Practical Woodworking Magazine: "… My thanks to Mark Finney for his excellent help and advice on the final finishing of the table."
R Cheetham
"It's the best finish I've ever produced."
Richard Oakman, Woodworker
"Having inherited a beautiful but very tired mahogany banister and being unable to find anyone to restore it at a reasonable price, I called in and spoke with Mark at Finney's. He gave me a 10 minute free lesson on French Polishing and sold me the required materials for less than £30.00. The result - a fantastic centre piece for the house and a great sense of achievement! I cannot recommend this business highly enough."
Sue Griffiths, Barnsley
You seem to know exactly what we need - and we think that's great!
Homeowner (name unknown)
"A pleasure to do business with."
Danny Ball Building, Tansley, Near Matlock, Derbyshire
"Wow! It's like an Aladdin's cave - if I can't get it here, they probably don't make it."
Surprised customer on their first visit
"It was nice to meet someone enthusiastic and helpful! I found the course very interesting and have been madly sanding and polishing since my return home. In particular using the polishing mop and Finpol polishes. You were right, the cherry takes on a lovely warmth and clarity when coated with the Finpol and its definitely a finish I will be using again."
Mr Peter Bagg sent via email after attending the Perfect Wood Finishing Course
"I am not easily impressed, but two of Finney's products in particular, Finpol Polishes and Durapolish Clear Glaze have greatly exceeded expectations and made my life easier in giving my clients a quality finish that's quick and simple to apply."
Mark Jameson, North Derbyshire Period Home Conservator and Antique Restorer
"The combination of your excellent tuition and good quality materials has allowed me to improve my standard of finish beyond anything I expected."
Robert Payne, Hope Valley Furniture Restorer
"Finney's have everything you could possibly need to stain and polish wood… and there's a great range of floor dyes too."
D. Thomas, woodworker, Hope Valley
"I prefer the convenience of being able to purchase top quality stains and polishes in large or small quantities from just one supplier - and there's a friendly smile too!"
Chris Wells, High Class Antique Restorer
"As professional Antique Furniture Restorers we work to a very high standard. The Finney's range of products give us the excellence that our customers expect and require."
G. Williams, French Polisher, Epworth, Doncaster
"As a self employed decorator it's essential that I use stains and polishes that give my work the edge. Finney's Clear Glaze and Finpol polishes are really easy to use and do the business every time."
Chris Green, Cheshire
"Since being introduced to Finpol Polishes and Finney's Trade Varnishes I've been most impressed, both with the performance of the products and all the invaluable, helpful advice which has been freely given. The superb results have been admired by both family and friends."
Roger Furlong, Market Drayton
"Being a DIY fanatic, I wish I'd found Finney's products 20 years ago. The products are easy to use and you get better results than ordinary DIY varnishes. I'd recommend Finney's to any amateur who wants to achieve a specific wood finish. I'm really delighted with the results that I have achieved."
Mike Pemberley, Isle of Man
"Finney's Microporous Oil is fantastic, I wouldn't use anything else."
Tony Maj, Cabinetmaker, Sheffield
"I find Finney's products to be of superior quality to those available elsewhere and in addition, they explain the best way to match a finish or colour."
Dave Garton, Professional Decorator, Hope Valley, Derbyshire
"First and foremost Finney's have a very wide knowledge of wood and wood finishing and are competitive. They offer a broad range of high quality products backed up with friendly advice and convenient service."
Kevin Harper, Harper Flooring Contractors, Sheffield
"Finney's products are excellent as is their service and range of stock. In ten years of using Finpol Special Polish, I have never had a complaint and can recommend Finpol polishes to any high quality furniture maker."
Jonathon Coulthard, Bespoke Furniture & Kitchen Manufacturer, Sheffield
"Finney's give us very helpful advice backed up with high quality products in stock. If we need a special product not usually kept on the shelf, they get it really quickly for us."
Robert Barnes Construction
"Came in recently and bought your Hard Wax Oil (as opposed to the OSMO wax we had been using). Just to let you know it works - nice to put on and the finish built up really well."
Anne Burbidge, customer
"Thank you for your advice regarding Durapolish Clear Glaze (Matt). I found it easy to apply by first using a brush and then smoothing over with a cloth. After three coats I have a superb looking and hard-wearing finish on a quality Walnut bathroom unit."
John Thatcher, Furniture Maker, Sheffield
"Hi Mark, Tried out the sample of wax finish Acrylic Varnish you sent us with last order. Was very impressed. Applied 4 coats onto piece of sanded cherry. Gave a lovely smooth self levelling finish with no sign of nibs on the surface, very flat. Seems to be quite tough as well."
Mr Peter Bagg, Furniture Maker,
"Hi Mark, Just to say many thanks for the products you advised me to use for my Victorian fireplace. I used them all on Saturday and the results look great! Thanks again."
Nicola Young
"Dear Staff & MD. An unbelievable service from you thanks. I placed my order on the 6th, it was delivered 7:45am on the 7th. Regards"
Martin Robinson, Poulton-le-Fylde
"I purchased some jet black renovator and glazing from you a few weeks back in order to blacken and renovate a tired looking three year old kitchen floor! My wife and I were thinking of ripping it up as it looked shocking and Tops Tiles had no answers apart from an expensive sealant which did nothing… Just wanted to say I'm glad I spent two hours on Google looking for something / someone to sort it out - your products have done the job and then some, the floor looks absolutely fantastic! Thanks once again."
Neil Matthewson by email
"Your Extra Tough Varnish is incredible stuff!"
Heeley Development Trust, Sheffield
"Finney's Extra Tough Floor Varnish and Extra Tough Floor Varnish (Waxed Finish) were unbelievably easy and satisfying to apply and gave exactly the desired result. It was refreshing to find a company that provides a professional and personable service, with reassurance to those new to wood finishing, along the way. Absolutely delighted!"
Sue and Andy Statham, Matlock
"The mastic filler is fantastic – how did I ever manage without it before?"
John Townsend by email
"Some time ago I contacted you and asked you for information to help me restore some rather tired old charm furniture. I have carried out the work using the information supplied by you and I am absolutely delighted at the finished result. In order that you can see for yourself I am attaching a couple of pictures of the finished items. However, the pictures do not show the end results as good as I would have liked, but you can put that down to the amateur photography. Can I say many thanks for your help in this matter and also for the materials which are absolutely brilliant and so easy to use. Best regards."
Richard Dean
"I think I spoke to you recently when I purchased a golden brown wood stainer and a wax sealant from you for my floor and am very pleased with the results. This is the second floor where I've used your products and advice and am very satisfied. "
Roy Ellis, North Yorkshire
"Thank you so much for your advice on the phone about restaining the old Victorian table for my daughters. The delivery has just arrived and I can't wait to start! Many thanks for your prompt service."
Iona Copley